Stonebreaker and Matteo Abruzzo proudly present:
AC/DC FANTOGRAPHY
From Hammersmith 2003 to Bilbao 2010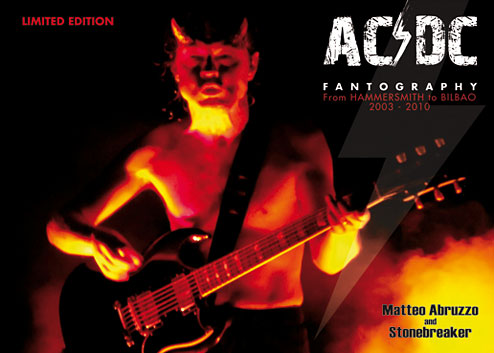 Hammersmith Apollo – 21 October 2003: AC/DC played a one-night only gig for only 5,000 lucky fans. Matteo Abruzzo and Stonebreaker were in the audience that night, with their cameras. Eight years later, and after attending more than 60 different AC/DC concerts in total, they meet again in the same London theatre to celebrate the end of the record-breaking Black Ice World Tour, and the release of the Live at River Plate DVD. This book is their photo tribute to the the setlist of the most successfull tour of the greatest rock'n'roll band in the world, with a very special flashback to the 2003 show. A deluxe limited edition photobook madey by hardcore fans for hardcore fans.
Details:
More than 150 exclusive photos from 32 concerts in Europe, Australia and the USA
Hardcover, 112 pages
Landscape format, 21×29.7 cm, 170g paper
High quality 4-colour print made in Italy
Limited, numbered and signed edition
Publication date: November 21, 2011
Price: € 49 (+ shipping and handling)
Send orders directly to info@stonebreaker.de