I love these kinds of birthday trips: in 2003 I went to London to see AC/DC at the Hammersmith Apollo. This time Queen & Paul Rodghers happened to perform at the Palau Sant Jordi in Barcelona to promote their latest album "The Cosmos Rocks". Therefore my wife and I travelled to Spain and met up with my school friend Thomas and his wife Alba who live close to Barcelona.
Being from Germany has some striking phyisical advantageous in a southern European country. We are just taller than the rest!
Thus standing in the second row right in the front of the catwalk turned out to be perfect. The band performed about one third of their show on the little stage at the end of the catwalk. With a max distance of about 3 meters to Brian May, Roger Taylor and Paul Rodgers I was able to make some close up shots that are normally the domain of professional photographers. While those had to leave the photo pit after the third song I was still taking picture by picture. Once again the Canon G9 proved to be a first class choice for pictures taken from the audience.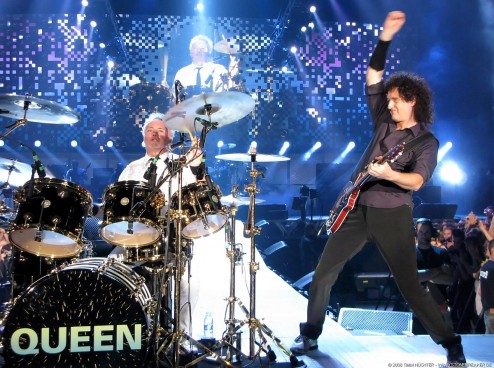 Brian May on guitar
Concert Facts:
Band:
Queen & Paul Rodgers
Tour:
The Cosmos Rocks Tour
Date:
October 22, 2008
Location:
Barcelona, Spain
Venue:
Palau Sant Jordi
Audience:
approx. 15.000
Photo location:
from the audience
Setlist: