There exists sort of a musical common sense among AC/DC fans. Internationally speaking this means that bands like Rose Tattoo, Accept, Airbourne or Iron Maiden are generally well regarded. Among German fans there is additionally high esteem for AC/DC tribute bands like Hole Full of Love, Dirty Deeds'79 or Black Thunder Ladies. And there is Ohrenfeindt: a band from Hamburg St. Pauli that performs their own songs. All of them have a touchof their Australian idols included and they sing in German which makes up for kind of a strange mixture at first glance.
Ohrenfeindt's gig at Aschaffenburg's Colos-Saal marked my first contact with these guys from the north of Germany. And YES, they are an honest, hard rocking band which has all it takes to get an audience going! Cool riffs, a bad-ass guitarist and the world coolest bass player!
All these incredients made up for a great photo session too. I even shot one of my all time favourit concert picture. This tells me that it does not take a super group or a large venue for an epic shot but just a born performer and the right moment to make this distinctive CLICK.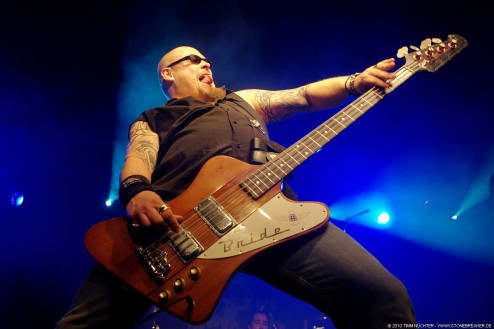 Chris Laut of Ohrenfeindt
Concert Facts:
Band:
Ohrenfeindt
Date:
February 12, 2010
Location:
Aschaffenburg, Germany
Venue:
Colos-Saal
Audience:
approx. 400
Equipment:
Nikon D700 | Nikkor F2.8, 14-24mm | Nikkor F2.8, 28-70mm | Nikkor F2.8, 70-200mm
Reviews:
Further picture gallery at www.flickr.com