On AC/DC's second return to France's national stadium "Stade de France" in Paris, the band was accompanied by guitar hero Slash!
In my opinion Slash's recent solo album "Slash" is the album of the year 2010. I have listened to it endless times. Especiall Lemmy's contribution of "Doctor Alibi" and the epic song "By the Sword" are of world class quality. Thus the appearance of Slash at the Stade de France was more than a support act for AC/DC. It was a full scale concert covering 11 songs of Slash's entire career. Myles Kennedy on the vocals put up a tremendous performance and Slash himself was just brilliant. You could see by the smile in their faces how much they enjoyed the gig. It was even the first time of the entire AC/DC tour that an opening act was allowed to use the catwalk. Myles and Slash were to make use of it many times. At the end of the show the entire stadium was up to it's feet and gave the band a well deserved standing ovation.
This time I was in the audience close to the left side of the catwalk. While Slash stopped right next to me serveral times to show some of his awesome guitar work I was able to capture a couple of cool shots with my Canon G11.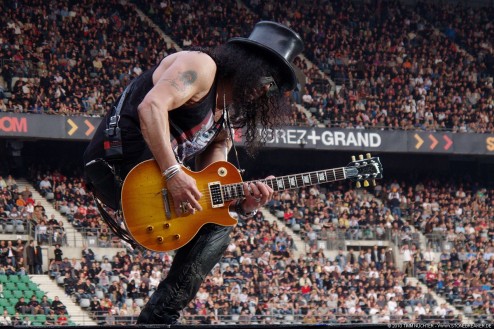 Slash - guitar hero at the Stade de France
Concert Facts:
Band:
Slash
Tour:
Slash World Tour 2010
Support for:
AC/DC
Date:
June 18, 2010
Location:
Saint-Denis, Paris, France
Venue:
Stade de France
Audience:
approx. 60.000
Equipment:
Canon G11
Video:
Paradise City:
Setlist: