Just 24 hours before the start of the show I recieved the final call by Jürgen S.: "Timm I've got a photo pass for you!" Thus I packed my equipment and went on the 2 hour trip from Frankfurt to Geiselwind (Franken, Bavaria) the next day.
Accept's comeback to the touring circus has been acclaimed with lots of praise. Their appearances with AC/DC in 2010 (Hannover, Stuttgart) and their best selling album "Blood of the Nations" convinced fans and critics at the same time. In Geiselwind the band proved that they are in perfect shape.
Photography conditions were like a dream. No 3-song constriction! I was able to cover the entire show from all sides of the stage and even the VIP-section on the first floor. Escpeciall my wide angle zoomNikkor F2.8, 14-24mm, turned out to be a winner for taking some stunning shots of Wolf Hoffmann and Peter Baltes in their famous guitar-bass battle.
Conclusion from the view of a fan as well as a photographer:
THIS SHOW WAS AWESOME!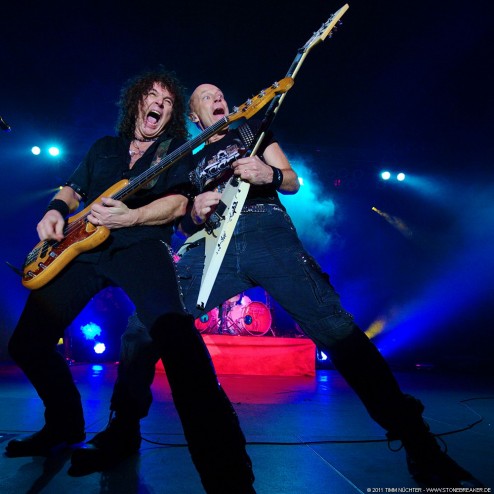 Bass vs. guitar!
Concert Facts:
Band:
Accept
Tour:
Blood of the Nations World Tour 2011
Date:
January 29, 2011
Location:
Geiselwind, Germany
Venue:
Eventhalle
Support:
Hellride | Steelwing
Audience:
approx. 4.000
Equipment:
Nikon D700 | Nikkor: F2.8, 70-200mm VR | F2.8, 28-70mm | F2.8, 14-24mm
Links:
Further picture galleries
Article about the comeback of the year (written in German)
Video:
Balls to the Wall:
Setlist: