Michael Schenker – Temple of Rock 2012
HsD (Gewerkschaftshaus), Erfurt, April 28, 2012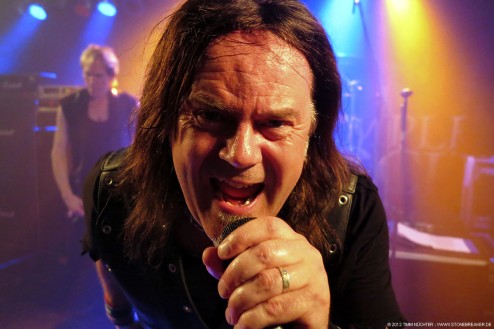 Frankfurt – Erfurt in 1h 45h min! Not bad for a distance of 250km. My concert buddy from school days "Alex" (1984 Monsters of Rock!!!!) floored the gas padel all the way in order to make it in time to Erfurt's concert hall "HsD". Well, we were kind of suprised to be the very fist ones at the venue at 6:45pm. As is turned out the doors would eventually open at 8pm, so we had plenty of time to get aquainted with "Hans-W. Rock". His surname is more than a promise. Hans is a dedicated concert photographer who has coverd a wide range of bands with his Nikon and who presents a very unique style in his photographs. Go and check out his gallery at www.fotocommunity.de … and bring some time to view it entirely. Its really worth it!
Well, being the first in line, Alex, Hans and I made it right to the top spot: front row, a bit to the right, exactly in front of the master himself. No one was positioned closer to follow Michael Schenker's guitar magic. And even though his life in the fast lane of Rock'n Roll has left some visible traces he still knows how to handle his Flying V!
This night's setlist was strongly influenced by Schenker's time with the Scorpions. No wonder: the founding members of Scorpions Francis Buchholz (bass guitar) and Herman "Ze German" Rarebell (drums) are on the bill for the European dates; as well as Doogie White (vocals: Rainbow, Yngwie Malmsteen) and Wayne Findlay (keyboards, guitars: MSG). This line up of Heavy Metal's all star musicians performed an inspiring show with many classics like "Rock you like a hurrican", "Holiday", "Rock Bottom" and of course "Doctor, Doctor".
In Erfurt I had the chance to test my newly acquired point and shoot camera "Canon G1x" for the first time: a comparably small tool with an almost SLR sized sensor. And even though the lights were very dim and reddish, it took some astonishingly noiseless pictures at ISO 1600 – 3200 (!!!). It is not the fastest in autofocus and lens speed but the picture quality is tremendous.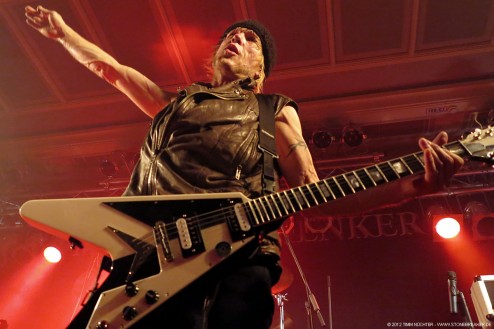 Concert Facts:
Band:
Michael Schenker
Tour:
Temple of Rock
Date:
April 28, 2012
Support act:
Fury UK
Location:
Erfurt, Germany
Venue:
HsD (Gewerkschaftshaus)
Audience:
approx. 350
Photo location:
audience
Equipment:
Canon G1x
Video:
Doctor, Doctor